Mouth Guard Recommended by Orthodontist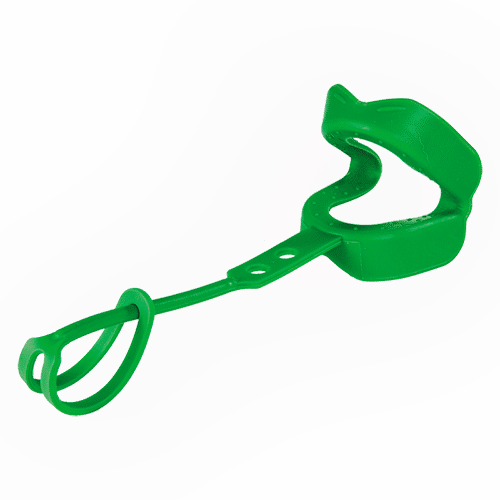 "We have been a customer of Denta-Gard for many years and have been using the Denta-Gard mouth guards for our patients for over ten years. We have found the quality and versatility of this product to be outstanding.
In short, this is an excellent product at a fair price."
SmileCrafters Orthodontics, Camp Hill, PA
---
 "…Denta-Gard is a product we have come to depend upon for its versatility and quality. As an orthodontic practice, it is important that we can offer our patients a good mouth protector that is comfortable and that we can count on to work well with brackets. The kids love the colors, too…."
Albert S. Chinnappi Jr., DDS, Marlton, NJ
---
"We have used the Denta-Gard mouth guards in our orthodontic practice for several years. The mouth guard forms to all-size mouths and is easily "trimmed" smaller if needed.
Our teenage patients can be quite picky with their sports equipment and not one person has had complaints with this guard. The kids also love the variety of colors!"
Cordray Orthodontics, Columbus, OH
---
"I would like to take this moment to thank you for the years of good service supplying our office with your product, Denta-Gard mouth guards. We have been using them for many years now, and have been happy with the product. Your mouth guards are given to every patient that gets braces in our offices. We want all of our patients to wear mouth guards for any contact activity.
The patients enjoy the different colors and are happy with the protection provided. We even have one patient who told us that he wears his mouth guard when he plays ping-pong."
Elliot S. Taynor, D.D.S., Jefferson Station, NY
---
Mouth Guard Recommended by Orthodontist
"Denta-Gard mouth protectors are the only mouth guard we recommend for our patients at Fredericksburg Orthodontics. The Patients love that they come in an amazing assortment of fun colors, while we appreciate the comfortable, custom fit, and convenient storage case."
Dr. Diana Almy, Fredericksburg Orthodontics,   Fredericksburg, VA
---
"The Denta-Gard mouth protector comes in multiple color choices and our patients love the smooth, soft comfort when they wear them. We have found that the mouth protectors are easy to get used to and an additional benefit is that they come with their own case for storage when not being used." 
Barnett Orthodontics, Barberton, OH
---
We invite you to browse our website to learn more about the Denta-Gard® Kid's Comfort PRO™ Mouthguard. The mouth guard is recommended by Orthodontists.